Managed Enterprise Security
Features & Benefits
Multiple SSL Certificate management:
A single Enterprise SSL Certificate is the perfect solution for securing a single webserver. However, some organizations will require multiple certificates to secure multiple webservers, spanning their intranets, extranets and web operations. To meet the needs of such organizations, Comodo has incorporated SSL Certificate issuance and management into the EPKI Manager.





Secure your enterprise email:
The need for email to be secure, confidential and integral is a growing concern for almost every organizations. Corporate Secure Email Certificates address this critical problem and provide the ability to secure and digitally sign email and attachments using any popular mail client. The EPKI Manager provides convenient and secure access to your own web-based console to administer your Secure Email Certificates to employees and partners.

Corporate Secure Email Certificates allow you to activate the security features in Outlook and Outlook Express that are already present: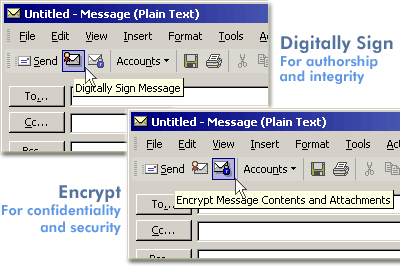 Assure customers, employees and partners of your identity:
Assuring customers of your identity is an essential factor for successful online business. Certificates issued through the EPKI Manager help assure customers of your online and email identity, leading to a higher confidence in who you are. Through the user-friendly interface you can issue digital certificates to web servers, internal servers, employees and partners, certificates that in turn represent the identities and credentials of their owner. The EPKI Manager helps you achieve trust and confidence within an environment where trust and confidence is essential yet currently unavailable.

Fully Managed CA Operations:
Comodo operate the backend Certification Authority used to issue the SSL and Secure Email Certificates, including high availability secure redundant server systems, high speed FIPS 140-1 Level 4 signing devices, backup and customer support. All Certificates issued through the EPKI Manager are fully supported by Comodo's industry leading customer support department.

Granular EPKI Manager User Management:
The EPKI Manager Administrator can add new users to the EPKI account, each with their own access control details and permissions. New users can have issuance abilities for SSL Certificate and / or Corporate Secure Email Certificates, access to money management facilities and access to global or local reporting facilities. This feature allows the EPKI Manager to be accessed by additional enterprise personnel, and permissions assigned accordingly.

Save money on your security requirements:
Comodo already provides industry-leading prices for Certificates. Through the EPKI Manager you can take advantage of further discounts on Comodo digital certificates. Multiple Certificate requirements for distributed systems and personnel, as well as load balancing requirements, can be fulfilled quickly, easily and cost effectively.
EPKI Manager Datasheet
Web based interface
Sub user creation and management
Sub user certificate issuance, reporting and financial management permission assigning
High availability 24/7 system
S/MIME certificates compatible with Outlook & Outlook Express and other S/MIME compatible mail clients
Immediate issuance
99.3% browser ubiquity
Standard and Wildcard SSL Certificates available
Corporate Secure Email Certificates (s/mime) available
Follow the links below for more details about the EPKI Manager